Raleigh: The City Of Oaks
A Realtor's Guide to Experiencing the Best Raleigh Has to Offer
Raleigh is the capital of North Carolina and one of the fastest growing cities in the country. Named after Sir Walter Raleigh, who established the lost Colony of Roanoke, Raleigh is home to North Carolina State University and is one of the vertices of the Research Triangle, along with Durham and Chapel Hill. The "Triangle," as it's more commonly known, originated in 1959 after the founding of Research Triangle Park in an effort to create a science and technology hub anchored by the three cities and their respective universities: NC State, Duke University, and UNC. Due to the job opportunities, affordability of real estate, access to premier, higher education institutions, and recreational activities in the area, Raleigh has become one of the most desirable locations in the country for professionals and families. It regularly tops "best cities to live and work in the US" lists: In 2018, Money Magazine ranked it 2nd in their "10 Best Cities to Live in Right Now" list; in 2019, it ranked 2nd in "Top 100 Places to Live" (livability.com); in 2020, SafeWise listed it as the 9th safest city in the US; and in 2021, Men's Health listed it as the 3rd Happiest City in America. Erica Anderson, a top REALTOR® and owner of Team Anderson Realty, has been serving the real estate needs of the community since 2014.
Downtown Raleigh
Raleigh is known as the "City of Oaks," and as you travel throughout downtown you will see why it garnered that moniker. The city is lined with gorgeous, majestic oak trees that add to the special, southern charm of Downtown Raleigh. The mixture of lush oak trees, green spaces, and buildings blend together to create a beautiful downtown area that provides just the right combination of nature and architecture. One of the things locals love about downtown is its size…it's not too big and it's not too small. Raleigh is also not a traditional tourist destination, so the city feels more familiar and livable to locals rather than some of the more populated, touristy cities in other parts of the country. However, that doesn't mean there isn't plenty to keep you entertained! Nestled among historic neighborhoods, the city offers world-class museums, restaurants, rooftop and underground bars, craft breweries, performing arts venues, parks, green spaces, and local shops. Raleigh has a burgeoning arts, entertainment, restaurant, and bar scene that is guaranteed to keep you coming back for more!
Eats
Downtown Raleigh has a thriving restaurant scene with some of the most talented, award-winning chefs in the nation. Second Empire Restaurant and Tavern is one of the most charming fine-dining experiences in the area. Located in the historic Dodd-Hinsdale House (circa 1879), Second Empire serves gourmet cuisine surrounded by the historic charm preserved in the restoration of the building. Downstairs you can find their Tavern and two additional dining rooms; set against a backdrop of warm, exposed brick walls, this cozy tavern is reminiscent of a prohibition-era bar. Dining at the Second Empire will feel like you've stepped back in time to have a drink and enjoy a delicious meal. Death and Taxes has become quite a popular dining establishment; the name of this restaurant isn't the only thing certain in life… you are also certain to enjoy a good time at this favorite hotspot! The chefs are dedicated to the technique of cooking with wood fire, giving their food a heavenly aroma and flavor that is unique to this method of cooking. Poole's Diner is a Raleigh tradition dating back to 1945; their mouth-watering southern menu options are a favorite among locals, and because their menu is inspired by the seasons


it changes frequently in order to help support local, family farms. Bida Manda is one of the most popular spots for foodies; it celebrates the diverse food traditions and culture of Laos. As delicious as the food is, the space is also an experience in and of itself, with the design focused on the Laotian people's holistic understanding of space and its relationship with nature. A Place at the Table Café is one of Raleigh's newest and most creative ventures; it's Raleigh's first pay-what-you-can café and was opened in 2018 in an effort to bring about community and provide good food for all, regardless of means. It's a novel idea that relies on the cooperation of patrons to choose whether they pay the suggested price, pay what they can afford, pay-it-forward, or volunteer their time. The unique vision of this community-minded restaurant has been accepted whole-heartedly by the public and lauded for their humanitarian work. Crawford and Son is located in the historic Oakwood district and offers casual dining in a warm, cozy atmosphere; the food is superb, with customers raving about their simple, yet delicious offerings. Downtown also boasts two amazing food halls: Morgan Street Food Hall and Transfer Co. Food Hall, which each host an eclectic, delicious mix of vendors sure to satisfy your appetite. There are too many restaurants downtown to name them all, but some other notable selections are: 42nd Street Oyster Bar (seafood), Sitti (Lebanese), Beasley's Chicken & Honey (southern), Café Luna (Italian), The Fiction Kitchen (vegan), Longleaf Swine (BBQ), and Capital Club 16 (New American). Be sure not to miss Triangle Restaurant Week each January, a week-long celebration of culinary achievement with some of the best chefs in the area offering special, 3-course menu options at fixed prices at participating restaurants.
Drinks
Downtown Raleigh has an incredibly lively bar scene with lots of options to choose from. A favorite among locals is The Raleigh Times; this establishment resides in a 100-year-old building, previously belonging to its namesake and boasts a rooftop bar providing an exciting view of the city. Old press clippings line the walls, creating a nostalgic atmosphere rich in local history. In addition to offering a full menu, the staff are all Cicerone Certified Beer Servers, having completed extensive training in order to elevate the beer experience of their patrons. Foundation is one of many underground bars in Raleigh and also one of the most popular; walk 15 steps down


from the street entrance and you will be met with exposed brick walls, wooden beams and a rustic, industrial ambiance that invites you to take a seat at the bar and enjoy their locally sourced cocktails, beer, and wine native to NC. Watts & Ward is another subterranean bar that was created to pay homage to the underground speakeasies of the prohibition-era; the purveyors of Watts & Ward are committed to keeping the spirit of the roaring 20s alive and well at their establishment. The Greenlight Bar is a well-kept secret, hidden behind a bookcase door within he Architect Bar & Social House; it's named for the green lightbulb outside the Architect, which when lit signals there's room inside for more customers. The Greenlight Bar was named as one of Architectural Digests "10 Best Speakeasy Bars Across America." Flying Saucer Draught Emporium is a fun-loving bar serving hundreds of NC Craft beers, as well as other domestic and imported brews. They offer a "UFO" beer club membership, Tuesday Trivia, $4 local beers on Sunday, and $4 Mondays where every beer on their draught wall is just $4. For die-hard fans of fútbol (aka soccer) The London Bridge Pub provides a great place to watch a game and offers indoor seating, as well as an outdoor patio where four-legged friends are welcome. Raleigh also offers several Beer Trolleys, which offer guests a pedal-powered pub crawl to some of the favorite downtown bars. Be sure not to miss Brewgaloo, NC's largest craft-beer festival held for two days every April in downtown featuring over 100 breweries and 50 food trucks.
Entertainment
Downtown offers an abundance of venues to take in a live performance. The Duke Energy Center for the Performing Arts, set amongst the backdrop of the State Capitol, is Raleigh's premier arts venue and encompasses four distinct event spaces, including: Raleigh Memorial Auditorium, Meymandi Concert Hall, A.J. Fletcher Opera Theater, and Kennedy Theater. Their calendar is full of diverse concerts and shows that provide patrons with endless opportunities to enjoy the talented performers that grace these stages.
Red Hat Amphitheater, which is conveniently situated in the heart of downtown Raleigh, offers an outdoor experience immersed in entertainment with breathtaking views of the Raleigh skyline. They regularly host outdoor concerts from a variety of musicians and is one of the best spots downtown to watch your favorite band perform. 
The Raleigh Convention Center is the most recognizable building downtown thanks to a public art installation by Thomas Sayre named the "Shimmer Wall," an impressive display adorning the west side of the building that boasts an oak tree comprised of nearly 8,000 light and dark aluminum pixels that change shape and disappear as the squares flap in the wind and also includes LED lights that change color to correspond with the seasons or celebrations. The convention center is a modern 500,000 sq ft facility where visitors can enjoy exhibits, special conventions, concerts, performances, and much more. 
Raleigh Little Theatre is a gem nestled on the outskirts of downtown, which has been delighting audiences since 1936 with passionate local performers starring in community theater; patrons can enjoy a variety of shows in their indoor theater, outdoor amphitheater, or in the adjacent Raleigh Municipal Rose Garden. Burning Coal Theatre Company is another popular downtown venue to take in a live show. Leggett Theatre is a small, intimate theater located on the downtown campus of William Peace University and is a great spot to see talented college students perform.
Hopscotch Music Festival is a 3-day jam-packed experience held in September with nearly 150 bands and performers, spanning 12 downtown venues. It is one of the can't-miss events of the year. 
Shopping
Deco is a favorite shopping destination featuring wares from nearly 100 local and independent makers and brands offering an eclectic, colorful, unique mix of gifts, housewares, books, cards, and more. The Flourish Market, which started out of a repurposed delivery truck turned do-good fashion truck, has literally flourished into a successful brick and mortar store offering customers the chance to purchase unique clothing, jewelry, and accessories from over 50 brands that focus on providing dignified jobs with fair wages to female artisans in vulnerable communities around the world. Edge of Urge is a fascinating shop that has curated collections locally and globally, offering men's and women's clothing, baby and kids clothing, jewelry, leather goods, accessories, art, and unique treasures for you and your home. House of Swank is a hip, low-key store specializing in NC-themed t-shirts, gifts, and accessories. Galatea Boutique supports local artists and designers and carries ethically sourced, Fair-Trade lines of clothing, jewelry, and accessories. Raleigh Vintage is the place to go for fashionistas and trend-setters who are looking for that perfect, unique vintage flair to add to their wardrobe; they were named by Vogue as one of the best vintage dealers to follow on Instagram. Union Camp Collective and Father & Son Antiques are great places to search for antique furniture and other unique treasures.
Historical Sites
Raleigh was established as the state capital in 1792 and is one of the earliest examples of a planned city. The land was purchased by the state from Joel Lane, whose 1769 house is the oldest in the county and serves as a history museum today. The building of the State Capitol, completed in 1840, serves as one of the finest examples of Greek Revival architecture for a civic building and is a National Historic Landmark. In 1891, the Executive Mansion, home of the state's elected governor, was created in the Queen Anne style of the Victorian Era of architecture and has been described as "the most beautiful governor's residence in America." Small tours are offered at the Executive Mansion during the public tour season and during the holiday open house. 
Mordecai Historic Park was once the site of the largest plantation in Wake County; today you can tour the Mordecai House, built in 1785, and get a glimpse into what life was like for the people who lived and labored on

this plantation. One of the outbuildings, still standing today, was the birthplace of Andrew Johnson, who became the 17th president of the United States after the assassination of Lincoln.  
A few miles south of downtown stands the oldest gristmill, Historic Yates Mill, which at over 200 years old has a rich history as the only surviving water-powered mill that is still operable in Wake County. It was not only a place where farmers would come to ground their corn and wheat into meal and flour, but it was also an important economic and social center, serving as a popular gathering place for picnics, fishing, and swimming. Today this 174-acre park gives visitors the chance to step back in time by touring the mill, fishing, hiking the trails surrounding the pond, enjoying a picnic, or taking part in an educational program to learn more about the history of this important place.
Just a couple miles west of downtown you will find North Carolina's oldest public park, Pullen Park, which was established in 1887 and is the 5th oldest operating amusement park in the entire country. This park is a favorite for families who bring their children here to ride the near-replica C.P. Huntington miniature train around the park, take a whirl on the historic Dentzel Carousel, which has been in operation since 1921 and is on the National Register of Historic Places, take a pedal-boat ride around Lake Howell, ride the kiddie-boats under a shaded pavilion, play on the playgrounds, take a swim in the Olympic-size pool at the indoor aquatics center, grab lunch at the Pullen Park Café, or bring your own lunch and enjoy a picnic either out on the greenspace lawns, the picnic tables by the lake, or one of the picnic shelters.
The Pope House Museum, built in 1901, is of special historical importance as it is the only African-American house museum in the state. Named after Dr. Manassa Thomas Pope, one of Raleigh's most intriguing residents, the museum offers a glimpse into the life of this remarkable doctor who was the only African-American man to run for the position of mayor of a Southern capital during the oppressive Jim Crow Era. The house offers tours and features many of the original family furnishings and historical artifacts that give insight into the life of this notable man.
Historic Oak View County Park sits on the former site of a 19th century farmstead which comprised nearly 1,000 acres. Today, the 27-acre park features several restored buildings open to visitors, including the original Greek Revival farmhouse. The park provides free educational tours and programs to educate guests about the importance of agriculture in our state and what life was like for the family and the slaves who were forced to work the land. It is also home to the largest grove of pecan trees in the county, and every November, the park allows visitors to harvest a small bag of pecans from the grove for free. Oak View is also home to friendly goats that you can feed and is a great spot for a picnic. 
Museums and Culture
Raleigh is a city rich in history and culture, and is often referred to as the "Smithsonian of the South" due to the variety of free, top-notch museums and state-of-the-art exhibits you can find here. The museums and historical education institutions reflect the diverse plant and animal life, as well as the diverse traditions and customs of the people who have lived in this area, past and present. The North Carolina Museum of Natural Sciences in downtown gives visitors a glimpse of the natural beauty of NC. Here you can witness the natural history of NC dating all the way back to the pre-historic age by viewing full dinosaur skeletons and fossil exhibits; wetlands, coastal, and mountain exhibits; modern-day wildlife exhibits; ocean exhibits; gem exhibits, and much more. It's a fun day for the whole family with plenty of interactive experiences for visitors, young and old. The North Carolina Museum of History is adjacent to the Science Museum and offers visitors the chance to learn about the people and history of NC throughout the years, from Native Americans to the first European Settlers to the Civil Rights Movement and everything in between. Both museums offer special events, classes, and educational programs for children, and they also host a variety of traveling exhibits each year. Marbles Museum is a destination guaranteed to delight the little ones…it's an interactive play museum designed specifically for little, touchy-feely hands, allowing kids to explore to their heart's content!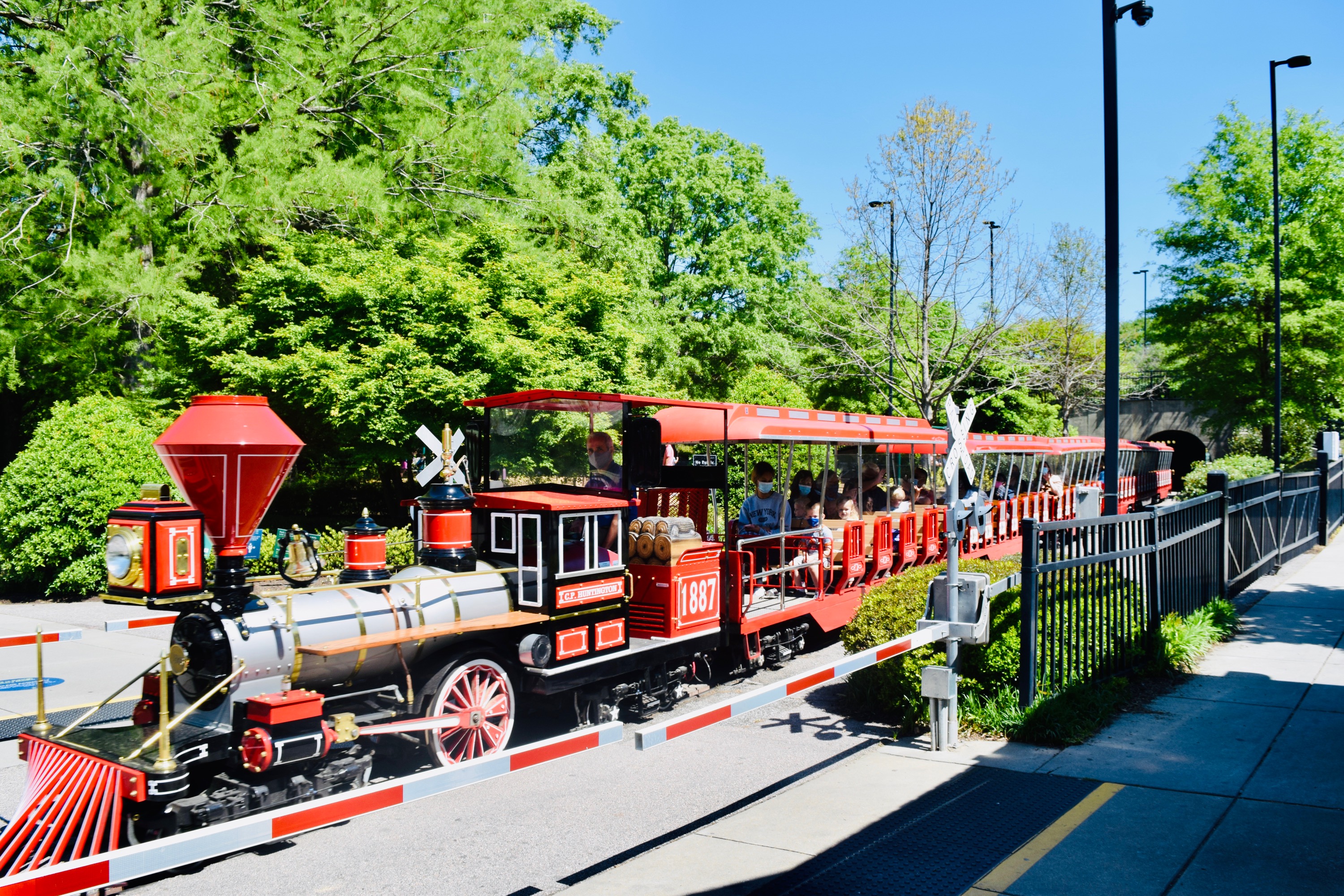 The North Carolina Museum of Art, founded in 1924, began with only 75 paintings and has grown its collection over the decades to become one of the premier art museums in the nation. The museum's permanent collection includes European works from the Renaissance to the 19th century; Ancient Egyptian, Greek, and Roman art and sculptures; American art from the 18th-20th century, as well as international contemporary art. The museum also hosts a variety of traveling exhibits from around the world, so there is always something new to see. In addition to the artwork viewable within the buildings, the NC Museum of Art is unique in the fact it contains a 164-acre park that houses permanent and temporary works of art; you can traverse the trails of the park, enjoy a picnic amongst the beautiful sculptures, and even enjoy a performance at the museum's outdoor theatre. Don't miss their annual Art in Bloom Festival, held for four days every year, containing more than 50 floral art pieces inspired by the museum's galleries and handcrafted on-site by world-class designers.
Cam Raleigh is an innovative art space in downtown that offers visitors a unique opportunity to engage with contemporary art in a bold environment that transforms the normal art-going experience into something truly visionary with cultural experiences and non-traditional exhibitions by living artists.
Artsplosure- The Raleigh Arts Festival is a premier event held the 3rd weekend in May attracting over 80,000 attendees to downtown Raleigh. This free festival has been a staple of the Raleigh art scene since 1980 and displays more than 180 artists' work through a variety of mediums. 
North Carolina State Fair
The state's largest event of the year is the NC State Fair, which takes place for 10 glorious days every October. One million visitors from around the state and beyond flock to the NC State Fairgrounds in Raleigh each fall to partake in one of the greatest state fairs in the country. With a state history rich in agriculture, NC farmers travel far and wide to display their fruits, vegetables, horses, livestock, flowers, and more hoping to return home with a coveted Blue Ribbon. 
 The Midway is the number one attraction at the fair with over 100 different rides. Whether you are looking for pint-size rides for the little ones, high-flying thrills, or anything in between, you're guaranteed to find it at the Midway. Here you can also find a huge variety of carnival games with big prizes.
We can't mention the State Fair without mentioning the mouth-watering food offered by hundreds of vendors throughout the grounds. Our fair is renowned for its deep-fried concoctions, some of which you could hardly dream up: Deep fried gummy bears, deep fried Bacon Pimento Cheeseburger Egg Rolls, deep fried Kool-Aid, deep fried peanut butter pickles, deep fried Jell-o, and much more. If it's food, North Carolinians can deep fry it! Some of the other favorite foods of past years have included: Roasted Pumpkin Spice Corn, Loaded Lamb Nachos, Stuffed Cubano Baguettes, Fried Garlic Cheese Curds, Korean BBQ Pork Belly Rolls, Chicken Bacon Ranch Poutine, Campfire on a Stick, and Pineapple Dole Whip, just to name a few.
Outdoor Recreation
From the moment you land at Raleigh-Durham International Airport, you can easily see what a "green" state North Carolina is. We have an abundance of oaks, pines, and various other species of trees that, along with our many lakes, provides a beautiful landscape for our state. Raleigh offers residents and visitors ample opportunities for outdoor recreation including hiking, biking, lake activities, golfing, and more. 
William B. Umstead State Park in Raleigh is one of the most popular hiking and mountain biking spots in the area. It contains an extensive network of more than 20 miles of hiking trails and 13 miles of multi-use trails for bicycling or horseback riding. The park features 3 man-made lakes which offer fishing at each, as well as canoe and rowboat rentals on Big Lake. Multiple campsites are also available with nearby restrooms and showers. 
Lake Raleigh, just 3 miles from downtown, is a 75-acre lake located in the heart of NC State's Centennial Campus. The park offers miles of hiking and greenway trails that are heavily shaded by the canopy of trees, making it the perfect place for a stroll on a hot summer day. Guests are invited to play disc-golf, picnic, fish, kayak, canoe, paddleboard, or use any other non-motorized watercraft they choose. 
The Neuse River Greenway Trail is a 27.5-mile segment of the Mountains-to-Sea Trail, a long-distance trail that spans the state from the Outer Banks to the Great Smoky Mountains. There are multiple entry points to the trail throughout the region. The greenway provides beautiful views of the Neuse River with winding boardwalk areas over the wetlands. The trail will also take you through agricultural fields and historical sights. You can also kayak, canoe, or fish in the Neuse River. 
Real Estate in Raleigh
Raleigh is one of the fastest growing cities in the nation, which means that when houses come on the market, they go off the market just as quickly. In this ever-increasing world, many people are feeling a strong desire to repurpose and restore rather than use up more resources and space to build. Downtown Raleigh is a popular area for rehabilitating old, historic homes in disrepair. We have an old history and with that comes lots of old homes and buildings. The city has designated 6 districts as "historic" in an effort to preserve their character: Blount Street, Boylan Heights, Capitol Square, Moore Square, Oakwood, and Prince Hall. If you purchase a home in one of these districts and want to make any exterior changes to the home, you will have to receive permission from Raleigh Historic Districts Commission so as to keep with the historical design integrity of the property. However, there are plenty of other homes in the area that don't require this type of approval, but it's always best to know what you're getting into before you buy. Outside of downtown, there are endless subdivisions in the greater Raleigh area offering homes, townhomes, and condos to fit every budget.
Ready to Buy a Home or Sell a Home in Raleigh?
Team Anderson Realty is an independent 5-star, concierge-style real estate firm that has been serving Raleigh and the surrounding areas since 2014. We take time to get to know our clients in order to best serve them, and provide a tailored experience for each individual home buyer. If you are looking to buy a home in Raleigh or the surrounding area, we would love the opportunity to show you what's available and help you purchase that perfect home! Likewise, if you have ever thought to yourself, "What do I need to do to sell my home?" then we can help with that too! We are a top seller's agent in Raleigh and the greater Triangle, and we would be delighted to put our expertise to work for you in getting you top-dollar for your home. If you're in the market to either buy a home or sell a home in Raleigh or the surrounding areas, please let us help make the process as smooth and stress-free as possible. Call our team of Realtor experts today at: 919-610-5126 and let us show you what we can do for you!