Whether you want to keep up with the latest trends, sell your home faster, or add more value to get the most return, here are some ideas to consider.
Paint an Interior room – This is the least expensive and less time consuming improvement to any home renovation. Painting earthy tones is on trend right now, light blues in the bathroom, or light beige in the living room adds around $1500 extra value to your home. Don't only think walls – painting your ceilings is a popular new look for 2019.
Front Door Update – Simply add a new coat of paint to your existing door, or install a brand new door altogether. Painting a matte black color could bring your sales price $6,000 higher. If you opt for a brand new door, consider a round top craftsman. It's all about "curb appeal".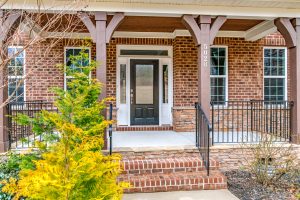 Landscaping – Add some low maintenance plants to give you a 5-10% increase in value.  Native plants for pollinating insects are in style now due to threats to insect extinction, such as Butterfly bushes, Lavender, Black Eyed Susan, and others.  Another landscape trend is "moon gardening", adding plants that illuminate a glow at night – Hosta, Juniper, Artemisia, etc.  Lighting your flower beds can add value and wonderful curb appeal at night.  Most local nurseries can help you find the right plants and light options to fit your budget.
Outdoor Updates – Elevated levels or separated spaces in your backyard, using natural materials such as stone or travertine, bring fashion to the outside of your home.  Built-in fireplaces can be expensive, but adding a simple fire pit offers the same appeal. Pops of color on your outdoor furniture with pillows, cushions, or umbrellas are simple ways to update the porch or patio.  Fabrics now in vogue are Red or Retro and Tribal patterns.  Desirable outdoor furniture include curved furniture such as couches or tables.
Bathroom and Kitchen Renovations – While these upgrades can run you the most money, they bring your biggest return. The latest trend is to take your tub/shower combo out and replace it with a garden tub and separate shower.  However, there are less expensive ways to update these areas.  Simply updating lighting fixtures using an industrial or sculptural style add instant value.  Also, changing vinyl floors to laminate or tile, choosing gunmetal sink fixtures, exposing plumbing in your shower, or installing a smart mirror with soft back lighting are small improvements that dramatically increase home values. Or, paint kitchen cabinets with two-toned colors using gray or sage green palates; this brings a great dimension into the room.  If your budget allows, purchase matching appliances or replace counter tops with stone, concrete, or quartz.  Remember: fresh paint is an instant update in any room.
For more ideas, click this link: 17 Home Trend for 2019.  Every improvement, no matter the cost, big or small, will add value to your home. If you're trying to stay within a certain budget, be mindful of how much money you are putting into the home, and make sure you are not exceeding the value of your home. If you have any questions, please call a Holly Springs Realtor with Team Anderson Realty at 919-610-5126.